The Pattaya 3D interactive art museum, "Art in Paradise", is the inspiration of Mr. Shin Jae Yeoul a 44 year old South Korean university graduate who has settled in Thailand. Mr Shin and his 10 partners invested more than 45 million Thai baht to create the " Art in Paradise" 3D interactive wall art paintings and drawings museum in Pattaya. The paintings were painted by 12 Korean artists.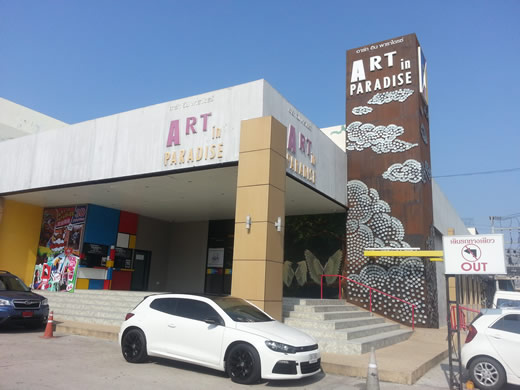 Location of Art In Paradise
The 3D wall art museum was created in a building that used to be the very large Palladium night club disco in North Pattaya opposite the Tiffany's show on Second Road. It is located about 50 meters inside Pattaya Second Road Sai 1. Click here for a map. The total indoor area is 5,800 square meters. The designers promote the venue as the largest trick art museum of the world.
Museum Gallery Layout
The Pattaya 3D art gallery features more than 130 (one hundred and thirty) life size paintings. The inside area is divided into ten main zones.
Zone 1:

Will tease your eyes with illusion created by the skillful use of colors and shadows. This is trick art.

Zone 2:

Under water world. Interact with several types of 3D marine life paintings.

Zone 3:

Wild animals such as elephants, polar bears and giraffes.

Zone 4:

Paintings by famous artists such as Mona Lisa by Leonardo da Vinci (1503), The Birth Of Venus by Sandro Botticelli (1486) or The Gleaners by Jean-Francois Millet (1857).

Zone 5:

Wonders of the world such as the Pyramids of Egypt, ancient temples of Ayutthaya and Machu Picchu.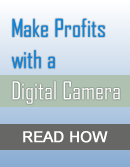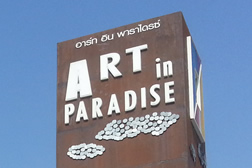 Zone 6:

Surrealism art.

Zone 7:

Animals from ancient times such as fire dragons and dinosaurs.

Zone 8:

A kind of natural aqua zone with paintings of waterfalls.

Zone 9:

Takes you into the jungles and forests.

Zone 10:

A collection of paintings portraying various moods set by Independent artists.
Taking Photos Inside Art in Paradise.
The management encourages photo taking inside the museum. At the side of each painting is a plaque with instructions about how to interact with the paintings. You can position yourself so that it looks like you have become part of the trick art painting. Check this photographic page for professional advice on taking photos.
Flash photography is not allowed inside the art gallery. So you will need a tripod for your camera if you wish to take some serious well lit photos. The lighting at Art in Paradise is set up to enhance the interactive guidelines provided by the museum.
Learn how to make money with your digital camera.
Art in Paradise Address
78/34 Moo 9, Second Road, Nong Prue, Bang La Mung, Chonburi 20150
Tel: 038424500.
Entrance Fee
Foreign adults 500 baht.
Foreign children 300 baht (height not exceeding 120 cm.)
Thai adult 150 baht
Thai child 100 baht (height not exceeding 120 cm.)
Operating Hours
09.00 - 21.00